Hello and welcome back to #effitfriday the linky with a difference, the linky that wants you to rant and rave at the world. Thank you to everyone who linked up last week I loved reading all your rants (after over indulging on champagne but that's a different story) and I'm looking forward to reading them again this week.
My Toddler-worthy Rant
Is based around a conversation overheard this week; why are we all becoming Judgey McJudgey pants?
Rant of the Week
Now I have picked just one as my #rantoftheweek and this week's honour goes to Tayla with her post on the 11 most annoying Toddler phrases ever. I kid you not this was my conversation with the Toddler just before I read it….
"I CAN'T do it"
gritted teeth "yes you can just try"
"no no no no"
"ok mummy will do it"
"noooooooo I do it"
"alright darling be my guest"
"I CAN'T do it"
Now grab the badge and get ranting. Happy Friday everyone – once again I'll be a little later commenting as I have the delights of our three year olds birthday party!
The Badge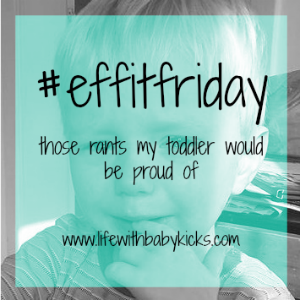 As always there are only 2 rules for #effitfridays:
1. Add the badge to your post
2. Comment on at least 2 other posts INCLUDING the post directly before yours. Commenting is what makes linkys work and we all love a bit
Please feel free to link as many posts as you wish.
Make sure to tweet me your link on Twitter @Laura_BabyKicks using #effitfriday and I will be sure to retweet for you.
The linky will run from 6am GMT Friday till 23:55pm GMT Tuesday.