The ranty linky party that is #effitfriday is back once again.  For all your rants that are Toddler-worthy.  Funny.  Serious.  Any rants are welcome, as long as they are, well, ranty.
My Toddler-worthy Rant
Seeing as last week I wrote about all the things I do to irritate him, it seemed only fair that my rant this week would be all those annoying endearing habits of my husband.
Rant of the Week
This week I had to pick two rants. First up is Claire of Life, Love and Dirty Dishes, with her festive themed rant on why the elf snowman is not welcome on her shelf. And given the nature of my rant last week on those little things the husband finds oh so annoying about me I have to give a shout out to Tracey from Anxious Dragon, firstly she wrote the post which made me think of annoying habits about her husband which linked up to last weeks #effitfriday, and she followed up this weeks with list of her own annoying habits but also managed to shoot her husbands reasonings down with well reasoned arguments!
Christmas Break
Next week will be the last #effitfriday before I close down for Christmas and New Year, no one wants to rant at Christmas!!
Following that I will be a little busy travelling first to the (grey) skies of Manchester before flying out to sail round the Caribbean, so again #effitfriday will be taking a little hiatus unless one of you lovely people would like to take over in January? Please drop me an email if you'd like to I'm at lifewithbabykicks@gmail.com otherwise see you next week for a Christmas #effitfriday.
Now grab the badge and lets get ranting.
The Badge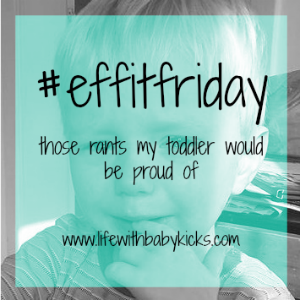 As always there are only 2 rules for #effitfridays:
1. Add the badge to your post
2. Comment on at least 2 other posts INCLUDING the post directly before yours. Commenting is what makes linkys work and we all love a bit
Please feel free to link as many posts as you wish.
Make sure to tweet me your link on Twitter @Laura_BabyKicks using #effitfriday and I will be sure to retweet for you.
The linky will run from 6am GMT Friday till 23:55pm GMT Tuesday.