This week #effitfriday is being brought to your from the UK. Yep, I've said goodbye to Dubai and become a fully fledged resident once more. So it's Friday, it's a little bit drizzly as I type this, and true to form #effitfriday the ultimate rant linky party is back for all things ranty.
Any rant big or small is welcome. Funny or serious it doesn't matter, all that matters is that you got it off your chest when you wrote it.
My #effitfriday Rant
This week, though I should really be writing a rant on children and jet lag after the Big One napped (my non-napping child remember?!) at 5pm today and spent the evening running circles round us, while the Baby who really needs to nap (but doesn't) crashed in bed early but ridiculously overtired.  We all know where that leads!  Still, onwards and upwards – we will be on UK time soon enough.  I hope.  Send me lots of luck.
All that said, I've not had chance to write said post on jet lag, instead I took a trip down memory lane as getting a new house looms on the horizon.  With a new house comes new furniture as we sold most of ours before leaving Dubai.  With new furniture comes the flat pack wars – tell me who does the DIY in your house?
My #effitfriday Rant of the Week
This week, my favourite rant goes to Whinge Whinge Whine with her holiday disaster, as we were on the plane flying back to the UK I kept thinking of this post, after the Baby felt like he was burning up, the Husband and I exchanging worried glances, I just imagined someone coming up to us to frog march us off the plane muttering fit to fly…be sure to check out Francis' Frances' progress over on Facebook as well!
Now grab the badge and lets get ranting.
The Badge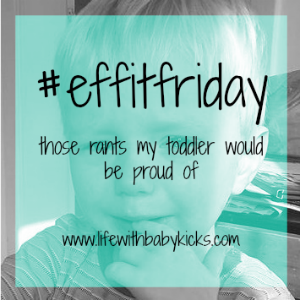 As always there are only 2 rules for #effitfridays:
1. Add the badge to your post
2. Comment on at least 2 other posts INCLUDING the post directly before yours. Commenting is what makes linkys work and we all love a bit
Please feel free to link as many posts as you wish.
Make sure to tweet me your link on Twitter @Laura_BabyKicks using #effitfriday and I will be sure to retweet for you (as best I can my Twitter and my laptop are not currently playing ball together)
The linky will run from 6am GMT Friday till 23:55pm GMT Tuesday.