It's Friday which can mean but one thing here on Life with Baby Kicks – #effitfriday the ultimate rant linky party is back for all things ranty.
Any rant big or small is welcome. Funny or serious it doesn't matter, all that matters is that you got it off your chest when you wrote it.  My rant this week errs on the humourous side of ranting…
My #effitfriday Rant
We are back in the UK, and with it, experiencing the joys of British Summertime.  The highs of beautiful sunny days in the park, cycling round our local reservoir, to the lows of drizzle and high winds.  Both boys are used to being in much less restrictive clothing, especially on their feet.  Yes, I have entered SOCK WARS with the Baby.  Unfortunately he currently seems to be winning the battle but I intend to win the war.
My #effitfriday Rant of the Week
My rant this week goes to Karen from Mad Cats and Babies, her rant from the soapbox last Friday was on why every parenting moment isn't #soblessed and that it is OK to not love it all.  You don't always want to love the fact that your child has had a tantrum over pocket money, that you haven't made the toast right, or indeed you looked at them with your eyes.  Heaven forbid.  If you haven't read it already I thoroughly recommend you head over to I will not love every parenting moment because you tell me….
Now grab the badge and lets get ranting.
The Badge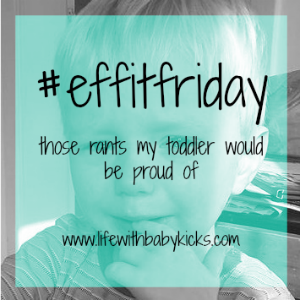 As always there are only 2 rules for #effitfridays the ultimate rant linky:
1. Add the badge to your post
2. Comment on at least 2 other posts INCLUDING the post directly before yours. Commenting is what makes linkys work and we all love a bit
Please feel free to link as many posts as you wish.
Make sure to tweet me your link on Twitter @Laura_BabyKicks using #effitfriday and I will be sure to retweet for you (as best I can my Twitter and my laptop are not currently playing ball together)
The linky will run from 6am GMT Friday till 23:55pm GMT Tuesday.