It's Friday which can mean but one thing here on Life with Baby Kicks – #effitfriday the ultimate rant linky party is back for all things ranty.   Any rant big or small is welcome. Funny or serious it doesn't matter, all that matters is that you got it off your chest when you wrote it.
#effitfriday is taking a little break
Well, it's taking a little break from my blog, however it would appear that the ranting circles have spoken and the lovely Hayley from Sparkles and Stretchmarks and the just as lovely Sam from Mouse Moo & Me Too have decided that the world needs somewhere to rant.  So from next week they will be co-hosting for a few weeks until I stop gallivanting all over the world.  Pop over and give them some #effitfriday love!
My #effitfriday Rant
This week my #effitfriday rant can be two-fold, it started as a Facebook post
Then evolved into a whole post ranting out to the man who asked my 3 year old why he was buying a girls magazine.
My #effitfriday Rant of the Week
This week, my rant of the week is close to home.  Jenna from Tiny Footsteps writes about Toddler Groups and how they are NOT the answer.  This is something which is especially close to home for me; I'm in the limbo where I know no one but need to look for friends again when we finally get settled in our final destination.  I remember the feeling of being on the sidelines in the midst of all these people, the  loneliness.
Now grab the badge and lets get ranting.
The Badge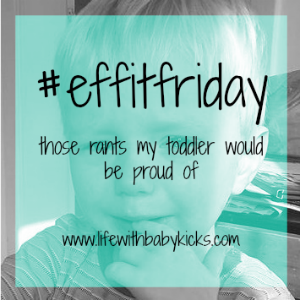 As always there are only 2 rules for #effitfridays the ultimate rant linky:
1. Add the badge to your post
2. Comment on at least 2 other posts INCLUDING the post directly before yours. Commenting is what makes linkys work and we all love a bit
Please feel free to link as many posts as you wish.
Make sure to tweet me your link on Twitter @Laura_BabyKicks using #effitfriday and I will be sure to retweet for you (as best I can my Twitter and my laptop are not currently playing ball together)
The linky will run from 6am GMT Friday till 23:55pm GMT Tuesday.