Happy Friday everyone and you know what that means here on Life with Baby Kicks – #effitfriday the ultimate rant linky party is back for all things ranty.   Any rant big or small is welcome. Funny or serious it doesn't matter, all that matters is that you got it off your chest when you wrote it.
My #effitfriday Rant
This week I spoke to an old school friend who messaged me for advice, talk turned to when parenting gets tough and how sometimes you feel like its only you who is having a tough time.  That it's only you who is sat there crying with your baby.  It's not only you.  You are not alone, and it is OK to cry.
My #effitfriday Rant of the Week
Thank you all for linking up last week I loved the variety of rants that I was able to read from park life to girls ruling the world (or not) and chore hatred and James Arthur (who is he?!)
This week my rant of the week goes to the very talented Emma from Island Living 365 with her feminism series and a guest post from Ellen at babies, biscuits and booze a very thought provoking piece entitled "The Mother Feminist" that really made me question my views and thoughts, feminism to me is everything that Ellen says, I always thought that you "couldn't" be a feminist if you took on the traditional housewife/stay at home mum role but as the article points out of course you can, feminism isn't about roles it's about mindset and attitude.
Now grab the badge and lets get ranting.
The Badge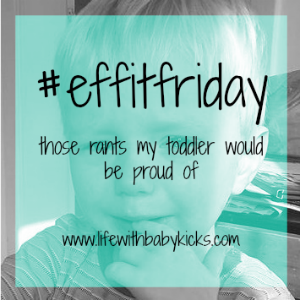 As always there are only 2 rules for #effitfridays the ultimate rant linky:
1. Add the badge to your post
2. Comment on at least 2 other posts INCLUDING the post directly before yours. Commenting is what makes linkys work and we all love a bit
Please feel free to link as many posts as you wish.
Make sure to tweet me your link on Twitter @Laura_BabyKicks using #effitfriday and I will be sure to retweet for you.
The linky will run from 6am GMT Friday till 23:55pm GMT Tuesday.