#blogstorm is back; a monthly linky for all things bloggy, opening on the 29th of each month and staying open for 2 weeks, for any and all blogging related posts hosted by myself and my #blogstorm partner in crime Martyn from Inside Martyn's Thoughts.  We love reading your blog tip posts, and you guys haven't let us down.
#blogstorm – featured blog tips from last month
Both myself and Martyn had the same favourite post this month from The Single Swan, a questioning post asking can you monetise and be deemed a "successful" blogger if you remain anonymous; what are your thoughts?
Our #blogstorm Blog Tips
This month I am linking up my post on How to Run a Successful Blog Hop Competition, this summer I helped to organise the blogging end of the Keep Britain Breastfeeding Scavenger Hunt, no mean feat for a fairly newbie blogger 🙂
Martyn is sticking with the social media tip theme and linking up his top tips to get the most out of instagram.
The Badge
So grab the badge and get linking.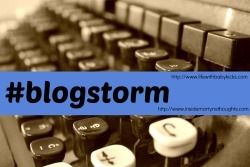 We are open from 6am GMT 29th October closing at 23:55pm on November 12th – happy linking.
The Rules
Our rules are simple:
1.  Link up as many blogging related posts as you want, just remember to add the badge to any post you link
2.  Add your link using the Inlinkz button below, that will add your post to this post.  Not sure how to do it?  There is a fantastic guide from The Dad Network that can be found here.
3.  Comment on this post and at least 2 other linked up posts that tickle your fancy. Its commenting and sharing the love that makes this community great.
4.  Remember to tweet your link using #blogstorm.  Make sure to tweet us, @Laura_BabyKicks and @Mr_Kitney and we will be sure to RT you