Happy Friday one and all, and happy Friday can only mean one thing – happy rant day. That's right, the linky party of all things rantworthy is back. Be your rants funny, serious, deep or shallow all are welcome. As long as they are worthy of my Toddler….
My Toddler-worthy Rant
So we are having sleep issues. With sleep issues come terrible, TERRIBLE, temper tantrums from the Toddler. So I am linking up Dealing with Toddler Tantrums – The Shoe Edition. But let's be fair, it's never about the shoes….
Rant of the Week
Well this week to be awkward I have two. The first being the important message from ERF Mama on car seat safety, this is something that I feel needs so much more awareness as people just don't realise what is and isn't deemed within safe guidelines. And I loved the Speed Bumps "Now What" post, it seems that whatever you do as a mother you get judged – obese babies, what next?
Now grab the badge and get ranting.
The Badge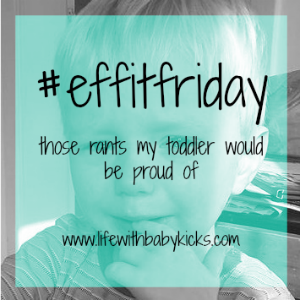 As always there are only 2 rules for #effitfridays:
1. Add the badge to your post
2. Comment on at least 2 other posts INCLUDING the post directly before yours. Commenting is what makes linkys work and we all love a bit
Please feel free to link as many posts as you wish.
Make sure to tweet me your link on Twitter @Laura_BabyKicks using #effitfriday and I will be sure to retweet for you.
The linky will run from 6am GMT Friday till 23:55pm GMT Tuesday.