It's Friday which can only mean one thing, #effitfriday is back once again for all your rant posts. All rants welcome, big, small, funny, serious, heart wrenching. If it makes you feel better to get it off your chest then I would love to have you here.
My Toddler-worthy Rant
This week my rant isn't really my rant, it is my husbands rant about me and my phone addiction. As such I am putting the phone away today as Friday is the first day of our weekend out here in Dubai. Please do tweet me your links still and I will retweet them, just not today, today is my break from my addiction. Which also means comments will be a little late again this week (nothing new there then I hear you say!)
Rant of the Week
My favourite post from last week was from Mrs Savage, a beautiful, poignant and heartfelt rant on What's Fair? Life may not be fair, but it pays to count your blessing as this post goes to show.
Now grab the badge and get ranting.
The Badge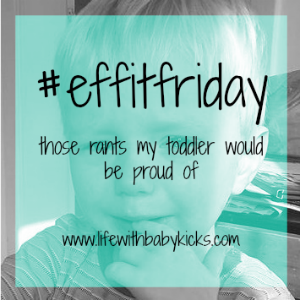 As always there are only 2 rules for #effitfridays:
1. Add the badge to your post
2. Comment on at least 2 other posts INCLUDING the post directly before yours. Commenting is what makes linkys work and we all love a bit
Please feel free to link as many posts as you wish.
Make sure to tweet me your link on Twitter @Laura_BabyKicks using #effitfriday and I will be sure to retweet for you.
The linky will run from 6am GMT Friday till 23:55pm GMT Tuesday.