It's that time of the month again, myself and Martyn from the wonderful Inside Martyn's Thoughts, and MAD Blog Awards School Days finalist, are back with #blogstorm, the blogging linky for blogging tips and well, everything bloggy.
#blogstorm – featured blog tips from last month
This month, I'm on a bit of a Pinterest kick, and so I loved Bad Mammy's tips on how to make beautiful blog graphics.  Pinterest is so visual and your graphic needs to stand out from the crowd so people pick yours to read!
Martyn has picked a fantastic post from Tim at Slouching Towards Thatcham on the, much talked about, much moaned about, not sure they've even been implemented yet, changes to the Instagram Algorithm.
Our #blogstorm Blog Tips
This month's focus for me is on Pinterest after reading some wonderful tips from What Katy Said.  A tool I've been adept at using for personal use, storing recipes and craft ideas.  Not so much on the blog side, despite having (what I think) pinnable content in my posts with recipes and travel inspiration.  Not to mention the fabulous #blogstorm with all your tips and tricks as well.  So this month I am sharing the 6 ways I am changing my Pinterest attitude, I'll let you know how it's working out!
Martyn is linking up with his post on how to add CommentLuv to a Blogger blog.  I love CommentLuv, it spreads the love around a little bit, it was one of my bugbears about Blogger and back when I was using Blogger I would have loved to read Martyn's workaround!
The Badge
So grab the badge and get linking.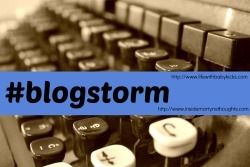 We are open from 6am GMT 29th January closing at 23:55pm on February 12th – happy linking.
The Rules
Our rules are simple:
1.  Link up as many blogging related posts as you want, just remember to add the badge to any post you link
2.  Add your link using the Inlinkz button below, that will add your post to this post.  Not sure how to do it?  There is a fantastic guide from The Dad Network that can be found here.
3.  Comment on this post and at least 2 other linked up posts that tickle your fancy. Its commenting and sharing the love that makes this community great. Remember hosts love comments too!
4.  Remember to tweet your link using #blogstorm.  Make sure to tweet us, @Laura_BabyKicks and @Mr_Kitney and we will be sure to RT you.