It's Friday once again, and that can mean only one thing, #effitfriday is back for all things ranty.
Any rant big or small is welcome. Funny or serious it doesn't matter, all that matters is that you got it off your chest when you wrote it.
This weekend we are actually skipping away for a little weekend away, so I will be around and retweeting where I can but I think the husband might just confiscate my phone if I spend too much time on it – please do still tweet me though!
My #effitfriday Rant
Sometimes I look at my boys and wonder why they throw the most monumental tantrums. Is it their age? Their temperament? A lack of understanding between us? Or is it genetic….yep, I think these boys learn from the best as this week I share the things I had a tantrum over. From the big to the small.
Like people who run across the road in front of you, when there is a pedestrian crossing metres away!!! Or there being no cake left in the house because the 3 year old ate the last slice.
You know, life changing moments…
My #effitfriday Rant of the Week
Each week it gets more difficult to pick! I love all of your rants, this week however, my favourite had to be from Sparkles and Stretchmarks. A post I actually read before I did my #effitfriday reading. A post that resonated with me. A post that brought tears to my eyes. A need to appreciate rather than self loathe. A need to acknowledge all that your body has done. It might be bump watch still for Hayley, but I promise you she certainly isn't alone.
Now grab the badge and lets get ranting.
The Badge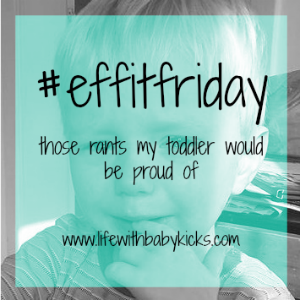 As always there are only 2 rules for #effitfridays:
1. Add the badge to your post
2. Comment on at least 2 other posts INCLUDING the post directly before yours. Commenting is what makes linkys work and we all love a bit
Please feel free to link as many posts as you wish.
Make sure to tweet me your link on Twitter @Laura_BabyKicks using #effitfriday and I will be sure to retweet for you (as best I can my Twitter and my laptop are not currently playing ball together)
The linky will run from 6am GMT Friday till 23:55pm GMT Tuesday.