It's that time of the month again, myself and Martyn from the wonderful Inside Martyn's Thoughts are back with #blogstorm, the blogging tips linky for blogging tips and well, everything bloggy.
#blogstorm – featured blog tips from last month
Last month saw a lot of #BML16 reviews being posted, I went along not entirely sure what to expect from the conference to end all conferences, you can read about my #BML16 experience.  Which leads nicely to my featured post, a fantastic summary of why he won't be going back to BritMums from Tony at Papa Tont (who I managed to miss the whole conference after he promised he would be easy to find!)
Martyn's top #blogstorm tip comes from Debbie at My Random Musings, a wonderful look back letter to herself as a newbie blogger – what would you tell yourself?
Our #blogstorm Blogging Tips
After the excitement of #BML16 and all things bloggy, I've been feeling a little bit deflated and have lost my blogging mojo.  My post this month is less blogging tips, more on trying to get my mojo back!
Martyn is linking up with his tips on being a successful blogger, or rather a persistent blogger.
The Badge
So grab the badge and get linking.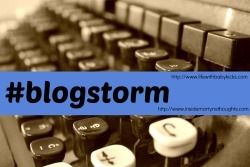 We are open from 6am GMT 30th May closing at 23:55pm on June 13th – happy linking.
#blogstorm – The Rules
Our rules are simple:
1.  Link up as many blogging related posts as you want, just remember to add the badge to any post you link
2.  Add your link using the Inlinkz button below, that will add your post to this post.  Not sure how to do it?  There is a fantastic guide from The Dad Network that can be found here.
3.  Comment on this post and at least 2 other linked up posts that tickle your fancy. Its commenting and sharing the love that makes this community great. Remember hosts love comments too!
4.  Remember to tweet your link using #blogstorm.  Make sure to tweet us, @Laura_BabyKicks and @Mr_Kitney and we will be sure to RT you.