Happy Friday everyone and what a massive week for world news!  But enough of that, it's Friday which can mean but one thing here on Life with Baby Kicks – #effitfriday the ultimate rant linky party is back for all things ranty.   Any rant big or small is welcome. Funny or serious it doesn't matter, all that matters is that you got it off your chest when you wrote it.  And if you happen to have written on the US election then I think this may be the place for you….
My #effitfriday Rant
What a big week news wise.  A new president elect and a choice that has had many up in arms, myself included.  Though I don't pretend to understand the nuances of politics, I leave that to the husband, I do understand people and the lessons that I want to teach my children.  This week my #effitfriday rant is all about that result ….. "I don't pretend to understand politics" we don't know what the future holds, but just because it is uncertain doesn't mean it isn't bright still.
My #effitfriday Rant of the Week
Thank you all for linking up last week I loved the variety of rants that I was able to read from Trainspotting to Rome.
But my favourite has to go to Claire at Life, Love and Dirty Dishes and her post from her Loving Me series following her progress on the Lighter Life diet, the first posts are hard hitting and gripping and I urge you to read.  But this week she linked up part three, the sods law of dieting.  Damn you M&S, damn you…..
Now grab the badge and lets get ranting.
The Badge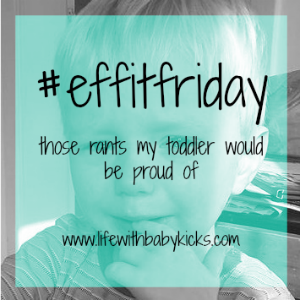 As always there are only 2 rules for #effitfridays the ultimate rant linky:
1. Add the badge to your post
2. Comment on at least 2 other posts INCLUDING the post directly before yours. Commenting is what makes linkys work and we all love a bit
Please feel free to link as many posts as you wish.
Make sure to tweet me your link on Twitter @Laura_BabyKicks using #effitfriday and I will be sure to retweet for you.
The linky will run from 6am GMT Friday till 23:55pm GMT Tuesday.