So it's that time of the month again, it's time for the bloggers blogging linky #blogstorm.  Run by myself and the very talented Martyn from Inside Martyn's Thoughts this is the linky for anything that is in the slightest way related to blogging, because as we all know, bloggers love a good blogging post…..
#blogstorm – featured blog tips from last month
This month my favourite post goes (again) to David from Tales of Two Children, I am loving his newbie tips and I loved the newbie blogger vs. twitter, it reminded me that I want to use Twitter for more chatting and less link promoting.
Martyn's top pick is from Nigel at DIY Daddy with his post on the four tiers of blogging –  which tier are you?
Our #blogstorm Blogging Tips
For my birthday my husband bought me the Facebook Moolah Marketing course as this year my focus has been on Facebook, on both growth and engagement.  This month my #blogstorm post focuses on 8 simple tips that I've been following that has seen my Facebook page grow.
Every year Martyn takes up the 40 day blogging challenge (or as it's been refreshed this year to the #40DBC) where instead of giving something up for Lent he gives something back – taking up not giving up for Lent
The Badge
Enough rambling from me, now it's grab the badge and get linking, we can't wait to read your blogging posts!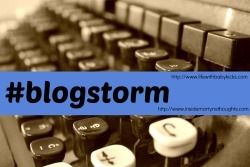 We are open from 6am GMT 29th September closing at 23:55pm on October 12th – happy linking.
#blogstorm – The Rules
Our rules are simple:
1.  Link up as many blogging related posts as you want, just remember to add the badge to any post you link
2.  Add your link using the Inlinkz button below, that will add your post to this post.  Not sure how to do it?  There is a fantastic guide from The Dad Network that can be found here.
3.  Comment on this post and at least 2 other linked up posts that tickle your fancy. Its commenting and sharing the love that makes this community great. Remember hosts love comments too!
4.  Remember to tweet your link using #blogstorm.  Make sure to tweet us, @Laura_BabyKicks and @Mr_Kitney and we will be sure to RT you.