#blogstorm is back (and on time this month) – a monthly blog tips linky, opening on the 29th of each month and staying open for 2 weeks, for any and all blogging related posts hosted by myself and my #blogstorm partner in crime Martyn from Inside Martyn's Thoughts.  We love reading blog tip posts, and you guys haven't let us down.
#blogstorm – featured blog tips from last month
I loved Julia from happy mama = happy baby post on "How to write with a baby" which is pretty much how I do all of my blogging. The WordPress app is my best friend.
Martyn's favourite post was from Debbie at Random Musings and her post on "5 Simple Ways to Boost Your SEO" SEO is one of those complicated minefields BUT if you get it right it does wonders for your blog as you are searchable.
Our #blogstorm Blog Tips
This month I'm linking up how I handled my blogger scandal and "The Other Side of the Blogging Copying Story" and Martyn is linking up a post on Social Media impact on Klout, that's helped me understand a little bit more on how your score is calculated and just what you can do to improve it.
So grab the badge and get linking.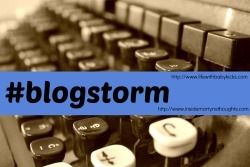 We are open from 6am GMT 29th September closing at 23:55pm on October 13th – happy linking.
The Rules
Our rules are simple:
1.  Link up as many blogging related posts as you want, just remember to add the badge to any post you link
2.  Add your link using the Inlinkz button below, that will add your post to this post.  Not sure how to do it?  There is a fantastic guide from The Dad Network that can be found here.
3.  Comment on this post and at least 2 other linked up posts that tickle your fancy. Its commenting and sharing the love that makes this community great.
4.  Remember to tweet your link using #blogstorm.  Make sure to tweet us, @Laura_BabyKicks and @Mr_Kitney and we will be sure to RT you