Hello and welcome back to #effitfriday the linky with a difference, the linky that wants you to rant and rave at the world. Thank you to everyone who linked up last week I loved reading all your rants and I'm looking forward to reading them again this week.
My Toddler-worthy Rant
This week I am linking up my little rant on the proposed junior doctor contract. Somewhat inspired by Doctomum's rant on the same. The NHS has given me so much, including the Toddler, a junior doctor made the call to send me to surgery and the Toddler was pulled out of me blue and not breathing. If she hadn't of kept her cool or wasted precious moments I would be telling a different story. I'd love you all to read it and share if you believe in it. Spread the awareness!
Rant of the Week
Competition was stiff this week, I loved all of your rants, not only that but so many of them described my life to a tee. That said this weeks #rantoftheweek has to go to Lady Nicci and her hilarious rant on How not to do PR – poor old Donkey Socks just don't know what they are missing.
Now grab the badge and get ranting.
The Badge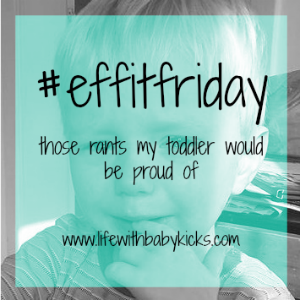 As always there are only 2 rules for #effitfridays:
1. Add the badge to your post
2. Comment on at least 2 other posts INCLUDING the post directly before yours. Commenting is what makes linkys work and we all love a bit
Please feel free to link as many posts as you wish.
Make sure to tweet me your link on Twitter @Laura_BabyKicks using #effitfriday and I will be sure to retweet for you.
The linky will run from 6am GMT Friday till 23:55pm GMT Tuesday.