Christmas is over for another year and you can often feel a little bit flat, gifts opened, turkey eaten and time to head back to work.
Feeling a little bit flat I was delighted to be nominated by Amy of Mr and Mrs T Plus Three to help continue spreading a little Christmas glitter this December as part of the Wayfair "blog it forward" initiative. Bloggers have been invited to share their random acts of kindness, spreading festive cheer, and in turn Wayfair will donate £50.00 to Habitat for Humanity.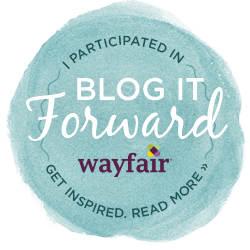 It is often the little things that help to brighten a day. The small acts of kindness that add the sparkle that can sometimes be found lacking in life. It's good to remember that no act is too small, that even the smallest of acts can put a smile on someone's face and spread some sparkle in the world.
This December, along with getting ready for Christmas, we have been remembering to be kind, to be thoughtful and to try and spread some sparkle for other people.
Baking Gingerbread
The Big One wanted to take a treat into nursery to share with his teachers and all his friends, so we got in the kitchen and baked up a storm creating delicious – nut free – gingerbread for an end of term feast.
Donating Baby Clothes
That's it, Baby Boy is our last baby, so we have piles and piles of baby clothes. In the UK I would just donate them to a charity shop and not think twice. Out here the concept isn't as easy as bag it up and donate. Instead I got in touch with Carry On 4 Babies an initiative which aims to get donations out to those in need, South Africa, Namibia, Jordan, Syria to name a few. Based in 13 countries across the world including the UK and UAE, their "Angels" collect donations and personally travel to distribute. In two years over 20,000 separate pieces have been taken to those in need by volunteers.
Phone Credit
There are those that work here in Dubai, leaving family back home, to give their loved ones a better life back home. They send nearly all of their wages back supporting children left behind, elderly parents, siblings. This Christmas we are buying some extra phone credit vouchers to give to those who have loved ones behind, to get in touch before 2015 draws to a close.
Toy Donation
Two boys and another Christmas means a lot of toys. Too many really. This year we are getting the Big One to pick some toys to donate to other children who don't have as much as my boys.
That is how I plan on ending my 2015, spreading a little extra sparkle and a little more cheer.
And I know I'm not leaving much time, and I know that for many it is a blogging break, but the theme is #blogitforward and so I'd like to invite the lovely Jenny from Monkey and Mouse and the equally lovely Prabs from Absolutely Prabulous to tell us about their random acts of kindness this December. And to blog it forward once again.