Well, well, well #effitfriday is finally back home ready for 2016. What with being on the (amazing, fabulous, thoroughly recommend it!) cruise for most of January and coming home trying to get sorted it has taken me a little longer to get back on my feet to run a linky.
Next up is a massive thank you to the lovely Debbie over at My Random Musings who has hosted for me for the past two weeks giving me some much needed breathing space!
My Toddler-worthy Rant
Both of my boys have been hard work this past week. Being a mum isn't always easy. It isn't always the beautiful photos and the loving statuses that you see (Motherhood challenge anyone??). The Baby has been especially demanding at times, not sleeping of an evening. I tend to follow an attachment parenting kind of style where it is often frowned upon to say things like "I'm tired" or "I'm fed up". But this week I am just that. Tired of being an attachment parent.
Rant of the Week
Although I haven't had chance to comment on everyones link from last week when Debbie hosted, I have managed to have a quick read (honestly who knew holidays caused so much trouble!) and my favourite post from last week was from Firstooth and her bed invaders.
Now grab the badge and lets get ranting.
The Badge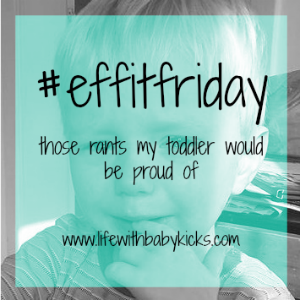 As always there are only 2 rules for #effitfridays:
1. Add the badge to your post
2. Comment on at least 2 other posts INCLUDING the post directly before yours. Commenting is what makes linkys work and we all love a bit
Please feel free to link as many posts as you wish.
Make sure to tweet me your link on Twitter @Laura_BabyKicks using #effitfriday and I will be sure to retweet for you.
The linky will run from 6am GMT Friday till 23:55pm GMT Tuesday.