It's that time of the month again, myself and Martyn from the wonderful Inside Martyn's Thoughts, and MAD Blog Awards School Days finalist, are back with #blogstorm, the blogging tips linky for blogging tips and well, everything bloggy.  We are a little late this month due to the fact that I left Dubai.  Martyn sent me a DM on Twitter after I was so on the ball last month asking if I was ready – I hadn't even a clue it was the 29th!  So I'm sorry we are a little late but, hey, better late than never…
#blogstorm – featured blog tips from last month
If you are a parenting blogger then you will know all about the Tots100, once a month the scores and rankings come out.  They often send people's moods flying high or crashing down.  I LOVED this post from Tim at Slouching Towards Thatcham busting those Tots100 myths.
Tim was on a roll this month, with Martyn's featured tip also coming from Slouching Towards Thatcham but this time all on how to use LinkedIn for Bloggers, this was really interesting as I used LinkedIn a lot in my previous life as a banker and haven't really thought about using it as a blogger.  I need to get some time to clean it up and sort it out!
Our #blogstorm Blogging Tips
This month has been a little bit up in the air for me with our move back to the UK, my #blogstorm post is about one way you can raise your profile, along with the raising of your all important domain authority (DA) by guest posting with other bloggers and websites.  Using Digital Marketing to your advantage if you will.
Martyn is linking up with his post on Facebook Friends.  It's a really interesting take on how Facebook has changed with blogging on a personal level rather than a blog level.
The Badge
So grab the badge and get linking.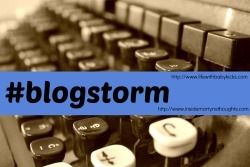 We are open from 6am GMT 30th May closing at 23:55pm on June 13th – happy linking.
The Rules
Our rules are simple:
1.  Link up as many blogging related posts as you want, just remember to add the badge to any post you link
2.  Add your link using the Inlinkz button below, that will add your post to this post.  Not sure how to do it?  There is a fantastic guide from The Dad Network that can be found here.
3.  Comment on this post and at least 2 other linked up posts that tickle your fancy. Its commenting and sharing the love that makes this community great. Remember hosts love comments too!
4.  Remember to tweet your link using #blogstorm.  Make sure to tweet us, @Laura_BabyKicks and @Mr_Kitney and we will be sure to RT you.