After a little break last month with Martyn (of Inside Martyn's Thoughts fame) taking the lead, we are back as a gruesome twosome and raring to go with the blogging tips linky September edition, yes, it's that time of the month again, we are back with #blogstorm, the blogging tips linky for blogging tips and well, everything bloggy.
#blogstorm – featured blog tips from last month
Sometimes a post just speaks to you, this month myself and Martyn are on the same page choosing Nigel from DIY Daddy and his post on "When is a blog not a blog" very thought provoking reading!
Our #blogstorm Blogging Tips
This month I am having a little bit of a blogging wobble, I am outgrowing my blog name and it's time to start thinking about a complete rebrand. The only thing is I haven't a clue where to begin, what to change too and all the work that will actually go into changing my whole site…
Martyn is linking a post that when I first saw the title I thought he was on about being America's next top model….. but no here are 10 reasons why he won't be the next top blogger.
I particularly like #10…
The Badge
Enough rambling from me, now it's grab the badge and get linking, we can't wait to read your blogging posts!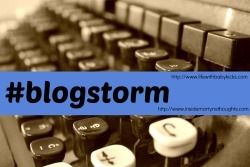 We are open from 6am GMT 29th September closing at 23:55pm on October 12th – happy linking.
#blogstorm – The Rules
Our rules are simple:
1. Link up as many blogging related posts as you want, just remember to add the badge to any post you link
2. Add your link using the Inlinkz button below, that will add your post to this post. Not sure how to do it? There is a fantastic guide from The Dad Network that can be found here.
3. Comment on this post and at least 2 other linked up posts that tickle your fancy. Its commenting and sharing the love that makes this community great. Remember hosts love comments too!
4. Remember to tweet your link using #blogstorm. Make sure to tweet us, @Laura_BabyKicks and @Mr_Kitney and we will be sure to RT you.