So it's that time of the month again, it's time for the bloggers blogging linky #blogstorm.  Run by myself and the very talented Martyn from Inside Martyn's Thoughts this is the linky for anything that is in the slightest way related to blogging, because as we all know, bloggers love a good blogging post…..
#blogstorm – featured blog tips from last month
This month my favourite post goes to Tales of Two Children, who wrote an insightful post on the newbie blogger versus blogging stats.
Martyn's top pick is all about why you write from DIY Daddy Nige, an insightful reminder to remember why you started and that stats are NOT everything.
Our #blogstorm Blogging Tips
This month I've outsourced, as all good bloggers do, to the extremely talented Harriet at Toby & Roo who is an Instagram Goddess.  Literally.  This lady has grown from 0 to 50k in a mere 12 months.  Even better for all of you is that in light of me not being able to head to BlogOn in May she has written me a little overview – from 0-50k in 12 months.  Now if you'll excuse me I'm off to be an Instagram Queen….
Sticking with the Instagram theme Martyn is linking up with his post on being a #ProperIGBlogger, which is Instagram bingo pretty much, go on over and see if you can add any more to his list!  He completely missed of beach/sand when I looked (and then pulled him up on Twitter)
The Badge
Enough rambling from me, now it's grab the badge and get linking, we can't wait to read your blogging posts!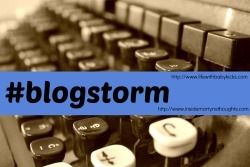 We are open from 6am GMT 29th September closing at 23:55pm on October 12th – happy linking.
#blogstorm – The Rules
Our rules are simple:
1.  Link up as many blogging related posts as you want, just remember to add the badge to any post you link
2.  Add your link using the Inlinkz button below, that will add your post to this post.  Not sure how to do it?  There is a fantastic guide from The Dad Network that can be found here.
3.  Comment on this post and at least 2 other linked up posts that tickle your fancy. Its commenting and sharing the love that makes this community great. Remember hosts love comments too!
4.  Remember to tweet your link using #blogstorm.  Make sure to tweet us, @Laura_BabyKicks and @Mr_Kitney and we will be sure to RT you.