Thank you everyone for linking up to #effitfriday last week, I was overwhelmed by the response it seems you all missed linking as much as I missed hosting.
There were some right corkers so if you haven't had chance to go check them out yet, then I would if I was you!
My Toddler-worthy Rant
I've had another week where everything has been so busy, so this week I am re-sharing an older rant. In support of the Junior Doctors that went on strike on Wednesday and the fact that the NHS not only saved my life, but that of the Big One; "Junior Doctors #notsafenotfair"
Rant of the Week
It was so difficult to choose this week so I went with two.
First up a very funny post from Mum in Brum's "Baby loves Dad more than Mum" A very clever poem on the fact that baby not only looks like Daddy but seems to love Daddy more as well. I know the feeling all too well with the Big One being a complete Daddy fan and the Baby only having giggles for Daddy. Never for Mummy. The milk cow. But still, it's lovely they have that bond.
Second up is a great piece of "The Motherhood Challenge" from Sparkles and Stretchmarks. Definitely food for thought here!
Now grab the badge and lets get ranting.
The Badge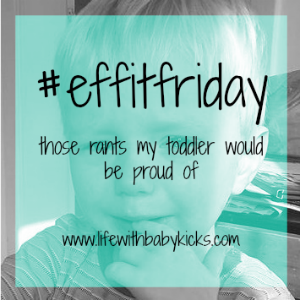 As always there are only 2 rules for #effitfridays:
1. Add the badge to your post
2. Comment on at least 2 other posts INCLUDING the post directly before yours. Commenting is what makes linkys work and we all love a bit
Please feel free to link as many posts as you wish.
Make sure to tweet me your link on Twitter @Laura_BabyKicks using #effitfriday and I will be sure to retweet for you.
The linky will run from 6am GMT Friday till 23:55pm GMT Tuesday.