Welcome once again to #effitfriday and thank you everyone for linking up with me again last week, the husband was off out on a night out so I had a lovely ranty evening reading through them all last night. I know – bad host being late with commenting!
There were some right corkers so if you haven't had chance to go check them out yet, then I would if I was you!
My Toddler-worthy Rant
It's a common misconception that everyone seems to have that when you go from one child to two, it's easy. You've already got the parenting badge, it's a breeze. No sweat. Except when it's not. It isn't always a walk in the park. And while it is always worth it, it isn't all sunshine and giggles. So my rant this week is "Going from One to Two Children is Easy?"
My #effitfriday Rant of the Week
This week I loved Karen, of Mad Cats and Babies, post on "We Fail New Mothers" an extremely emotional read over how we don't do enough to support new mothers. Karen is also in the process of setting up a new charity to try and address this, offering some support for those who need it.
Now grab the badge and lets get ranting.
The Badge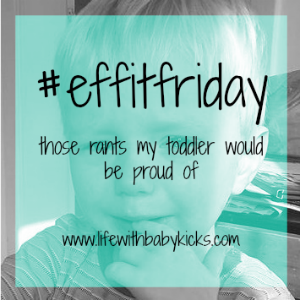 As always there are only 2 rules for #effitfridays:
1. Add the badge to your post
2. Comment on at least 2 other posts INCLUDING the post directly before yours. Commenting is what makes linkys work and we all love a bit
Please feel free to link as many posts as you wish.
Make sure to tweet me your link on Twitter @Laura_BabyKicks using #effitfriday and I will be sure to retweet for you.
The linky will run from 6am GMT Friday till 23:55pm GMT Tuesday.