Happy May everyone and welcome to the first Friday of the month.  And as it's Friday that can mean only one thing, #effitfriday the ultimate rant linky party is back for all things ranty.
Any rant big or small is welcome. Funny or serious it doesn't matter, all that matters is that you got it off your chest when you wrote it.
My #effitfriday Rant
I am heading on a parenting rant this week.  The boys have been playing up recently, or my tolerance has dropped.  Whatever it is, I've been having some tough days parenting recently.  Days where all my children do is push my buttons.  All of them.  You know the days?  Where the Baby refuses to nap.  Where the Big One refuses to get dressed.  Where nothing goes right and you long for bedtime.
My #effitfriday Rant of the Week
This week my #rantoftheweek is from the lovely Fran at Back with a Bump, who is currently on maternity leave, and sums up the expectation for perfection as a new mum perfectly in her post Maternity Leave Isn't All Cake and Coffee.
Now grab the badge and lets get ranting.
The Badge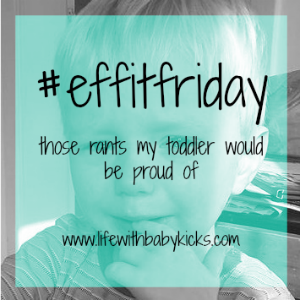 As always there are only 2 rules for #effitfridays:
1. Add the badge to your post
2. Comment on at least 2 other posts INCLUDING the post directly before yours. Commenting is what makes linkys work and we all love a bit
Please feel free to link as many posts as you wish.
Make sure to tweet me your link on Twitter @Laura_BabyKicks using #effitfriday and I will be sure to retweet for you (as best I can my Twitter and my laptop are not currently playing ball together)
The linky will run from 6am GMT Friday till 23:55pm GMT Tuesday.