My husband is one of those people that is difficult to buy for, though he thinks he isn't. I mean what do you buy for the man who has everything? And I mean literally everything he wants (bar time and a chance to poo in peace with the little ones around), and if he wants something he just goes out and gets it. Even when it's three weeks away from Christmas. It is infuriating.
Though we have our standard presents, golf balls, a new running top, running socks. Fail safe. Always required. Always appreciated. Then this year he went and broke his foot. No running. No golf. No football. No gifts.
Uh oh.
What is a girl to do?!  Just how do I go about buying for the man who has everything, and buying something which isn't socks!!  Well that is where Uncommon Gifts comes in, with over half of what is sold made by hand, a unique and special gift was bound to be making it's way under our tree.  And they are indeed, as I type some very special presents are en route to me in Qatar (yes they deliver to the Middle East people!!) ready to go under our Christmas tree.
Seeing as I have finally sorted out something for my man who has everything I thought it might be an idea to help you out.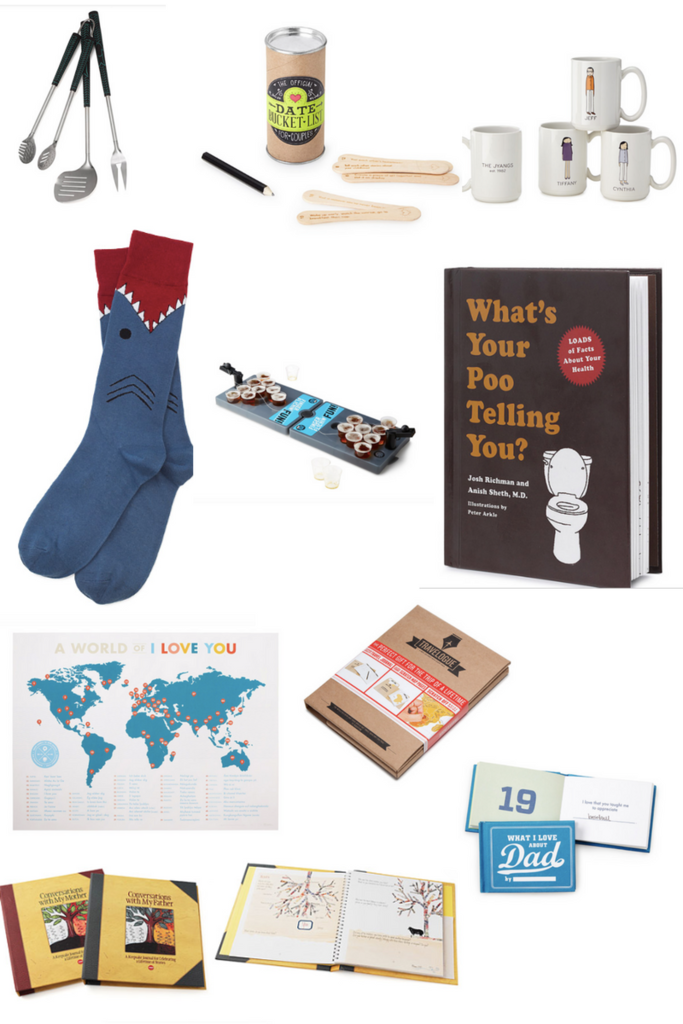 I've even got technical and if you click on the photo it takes you to the specific link – clever right – from gifts specially for Dad to gifts for the man in your life I've picked a little bit of everything, for the man who has everything.
Golf BBQ Set; golfing and a barbecue, all those manly pursuits making this a wonderful gift for someone who lives where it is always barbecue weather
Date night bucket list; I love the idea of this, a bucket list kit, that is printed on a cute collection of birch wood sticks, the date night-invigorating prompts run the from romantic reverie (pack blankets and pillows and go stargazing someplace secluded) to intellectual stimulation (attend a lecture at a local museum or university). Once you've shared each experience, note the date on the back of the stick with the official bucket list pencil (provided)
Personalised family mugs; just too cute
Shark socks; everyone needs socks at Christmas
Mini travel beer pong; my husband thinks he is the champion of Beer Pong, here he would be able to prove it wherever he went
The poo book; men and poo.  What more do I need to say?
A World of I Love You; a way to map out the places you've travelled together.
Scratch Travel Journal; recording those travel memories.
Conversations with my dad; a unique and novel way of recording a family tree
Ways I love my Dad; get your little ones to fill it in and see what they say
Pin it for later
*this was written in collaboration with Uncommon Goods, all opinions and stubborn husbands are my own and my whole Christmas gift to my husband is currently winging it's way to me from Uncommon Goods – eeep!