It's that time of the month again, myself and Martyn from the wonderful Inside Martyn's Thoughts are back with #blogstorm, the blogging linky for blogging tips and well, everything bloggy.
#blogstorm – featured blog tips from last month
This month both of our featured blog tip post has to go to Becky from Cuddle Fairy on How to Grow Your Instagram Followers.
Instagram is one of my favourite social media platforms and I love reading tips and tricks, especially with a new algorithm that is due to be launched.
Our #blogstorm Blog Tips
In case you hadn't realised already, this month has seen the opening of two prestigious Blogging Awards. The Oscars and the BAFTAs of the Blogging World.  Yep folks, that's right, nominations are open for both the BiBs and the MADs.  As I've been busy moving this month getting ready for our big Dubai departure I haven't really had time to write the post I was planning on writing which was all about Facebook.  Instead my #blogstorm tip is to put yourself forward for the awards.  Tell people why they should nominate you.  Spread the blog love around and tell people who you are nominating.  And with that in mind, I'd love your nominations…
Martyn is not quite so forward as me (he is, he is – look and may I say very deserving of your vote!!!) or at the very least he is much more organised and his blogging tips this month are actual blogging tips on our favourite social media platform, Instagram and it's limits. .
The Badge
So grab the badge and get linking.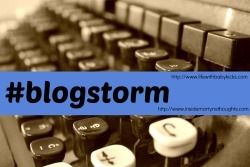 We are open from 6am GMT 29th January closing at 23:55pm on February 12th – happy linking.
The Rules
Our rules are simple:
1.  Link up as many blogging related posts as you want, just remember to add the badge to any post you link
2.  Add your link using the Inlinkz button below, that will add your post to this post.  Not sure how to do it?  There is a fantastic guide from The Dad Network that can be found here.
3.  Comment on this post and at least 2 other linked up posts that tickle your fancy. Its commenting and sharing the love that makes this community great. Remember hosts love comments too!
4.  Remember to tweet your link using #blogstorm.  Make sure to tweet us, @Laura_BabyKicks and @Mr_Kitney and we will be sure to RT you.